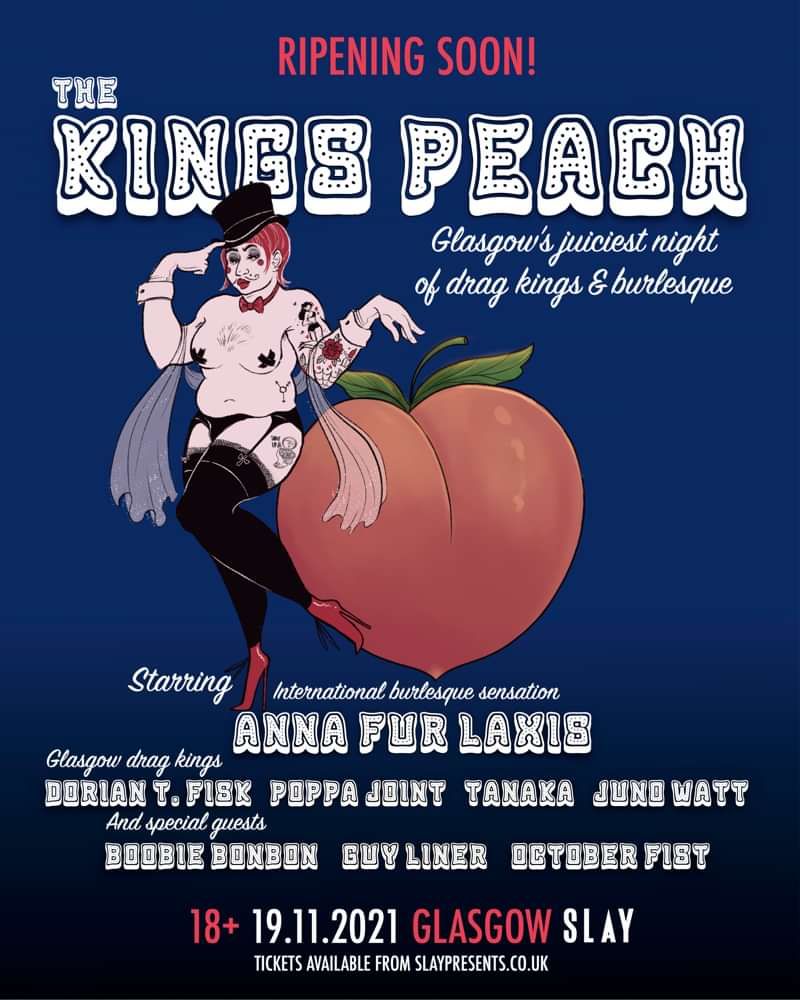 SLAY! presents:
THE KINGS PEACH
£8-15
Entry Requirements: 18+
Buy Tickets
【Ripening soon】The Kings Peach 👑 🍑Glasgow's juiciest night of drag kings and burlesque will be oozing goodness onto the Slay Glasgow stage this November!
Feast on a sumptuous platter of the tastiest handpicked local produce and extremely delectable imports!
Starring…
💫 International burlesque sensation Anna Fur Laxis @annafurlaxis
Glasgow drag kings
🍌 The man with the biggest fruit in the bowl Dorian T. Fisk @doriant.fisk
🧑🏽‍🦽 The one you call for a wheelie good time Poppa Joint @poppajoint
🪴 The ever-succulent Tanaka dragkingtanaka
🕺🏼 The seducer of the Southside Juno Watt @junowatttho
Plus special guests
🔥 Temptress of fatal curves and unholy assets Boobie BonBon all the way from Belgium @boobiebonbon
⚔️ Edinburgh's Renaissance drag twink Guy Liner @guyfknliner
and
💋Sexiest local drag monstrosity October Fist @october_fist
👑 🍑
The Kings Peach [18+] 🔞
Friday November 19th
Slay Glasgow
💷 🎟 ⏳
This is a table-seated show with Front Row and a limited number of Early Bird tickets available now from £8 at SlayPresents.co.uk (link in bio)
Image description:
Promo poster for The Kings Peach with a gradient solid colour background going from blue at the top to black at the bottom and white text detailing the show name and cast and key information mentioned above. In the centre is a digital graphic illustration of a person embodying genderf*ck voluptuousness with classic pinup tattoos on their arm, the trans symbol tattooed on their side, and the Shut Up & King logo tattooed on their thigh. They are wearing a black top hat which they are tipping with one hand, red bowtie, black panties, suspenders and stockings with devil red killer high heels. They are leaning against a giant ripe peach with one foot raised and one hand posed with a camp air. Their chest is hairy and their breasts have black tape covering their nipples. A transparent silk scarf is draped loosely around their elbows and behind their back. Correct, this is going to be burlesque cabaret the likes of which I bet you've never seen!
AllBodiesAreBurlesqueBodies #BodyPositivity #Burlesque #Cabaret #Comedy
BookDragKings
drag #DragKing #DragKings #ScottishDrag #ScottishDragKings #ScottishDragKing #UKDragKing #UKDragKings #UKDrag #TransRights #SupportLocalDrag #AllDragIsValid #GenderBender #Genderfluid #GenderQueer #ShutUpAndKing